Professors and Rebels Double Bill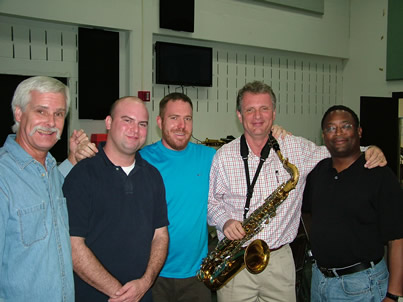 Wednesday, October 17th at 7:00p.m. I'll be appearing in Tulane University's Dixon Theater with the Professors of Pleasure, the university's faculty quintet. We'll be opening for the Soul Rebels.
I personally insisted the bill be set up that way. While the Professors are absolutely not your standard 'mainstream' jazz band ( our music is heavily influenced by the rich musical culture we experience in New Orleans on a daily basis, and thus contains heavy measures of funk and parade beats) we're positively cerebral compared to the Rebels, who are quite possibly the premiere exponents of cutting edge brass band music, which these days incorporates all manner of popular local musics, most notably the 'bounce' and 'dirty south' brands of hip hop. We'd be nuts to follow these guys. It would be like having James Brown open for Dave Douglas.
The concert is the second in a two part series. The first concert (scheduled for the night before, Tuesday, October 16th) will feature Dr. Michael White's Liberty Brass Band, and Tom Sancton's group. Sancton is a journalist and clarinettist who has written a fascinating book, 'Song For My Fathers,' that I would highly recommend to anyone interested in indigenous New Orleans music as it existed here in the late 50s to early 60s.
The concert series was conceived as a pairing of traditional and contemporary styles, with the Liberty Brass Band representing traditional brass band music, Sancton's group the traditional New Orleans style of small band jazz, and the Professors and the Rebels covering modern small band and brass band styles respectively. The Liberty performs often at Tulane for all kinds of ceremonial and social functions, and is an excellent example of the 'repertory' style of recreating brass band music as it was heard in the streets of New Orleans from the 1920s through the 1960s. I caught Sancton last year at Preservation Hall, and he's a first rate clarinet player in the George Lewis school; in fact he was Lewis' student for several years in the 1960s. The Professors and I will be trafficking in our usual oddball, grab-bag style of straight-ahead jazz, New Orleans street beats and funkified deconstructions of standards and originals. And the Soul Rebels will blow the roof off the sucker. For real.